P2E (Play to Earn) game Axie Infinity's crypto asset Axie Infinity (AXS) is on the rise despite looming unlocks worth millions of dollars .
AXS has surged more than 40% over the past 24 hours to a four-month high of $13.94, according to CoinDesk data.
According to Coinalyze, open interest in perpetual futures on AXS increased 156% in 24 hours to reach $104 million. An increase in open interest as the price rises indicates an influx of money on the bullish side.
Axy Infinity, a blockchain-based trading and battle game, is a game where you can collect, breed, train, battle, and trade NFT characters called 'Axies'. AXS is the governance token of Axie Infinity.
usually bearish
According to TokenUnlocks, approximately 4.8 million AXS (approximately $64 million, approximately ¥8.3 billion), or 1.8% of the 270 million AXS supply, will be unlocked late January 23. If so, this uptick can seem like a mess.
Unlocking is usually seen as a profit-taking move for big investors and a bearish factor. Tokens in these projects are often locked for a period of time to prevent large holders (usually early investors or members of the project) from selling them all at once and driving the price down.
Flex Hartmann, managing partner at crypto investment firm Hartmann Capital, said the turbulent uptick stemmed from expectations that Axie's development team would make a positive announcement to offset the impact of the unlock. He said he was.
"Over the past 12 months, the team has built a track record for big announcements for Unlock Day. (Mr. Hartman)
The data site Unlocks Calendar offers a similar view.
"With the market in positive momentum, the unlocking teams will announce good news that they have been hiding for months during the market downturn. We will ride the market," Unlocks Calendar tweeted on Thursday.
It is also pointed out that it is unethical
In addition to AXS, multiple crypto assets are rising before unlocking. DYDX, the governance token of decentralized exchange dYdX, is up 64% this month ahead of its February 2nd unlock. Layer 1 blockchain Aptos' native cryptocurrency Aptos (APT) is also up 40% in the week leading up to its January 12th unlock. It has since nearly doubled to $13.
"The market has become reflexive, and many people buy in anticipation of unlocking news," Hartman said, citing the recent trend of projects announcing good news in line with unlocking as unethical. pointed out.
"The recent trend of creating buzz to help[early investors]sell their holdings to retail investors who don't know anything about unlocking is something I consider quite unethical. (Mr. Hartman)
Some market players have long said that the impact of unlocking highlights general trends in the market.
"Major unlocks of crypto assets are complex events involving market sentiment. Simply put, a major unlock can be a bullish factor for bulls and a bearish factor for bears. Unlock will continue the dominant trend at that time," Chris Burniske, co-founder of the crypto-focused venture Placeholder, tweeted in April 2021. describes the bullish reaction to the unlocks made in
At that time, a bullish frenzy dominated the market as Bitcoin (BTC) hit all-time highs almost every other week. The market has returned to a bullish trend this month, with Bitcoin and Ethereum (ETH) up about 35%.
AXS is up more than 100% this month, crossing the 200-day simple moving average for the first time since 2020.
But the bullish comeback has yet to rekindle interest in the gaming platform itself.
According to data from gaming statistics site ActivePlayer, Axie Infinity had 432,001 live players in the past 30 days, the lowest since October 2020. Axie consistently had over 2 million players from September 2021 to May 2022.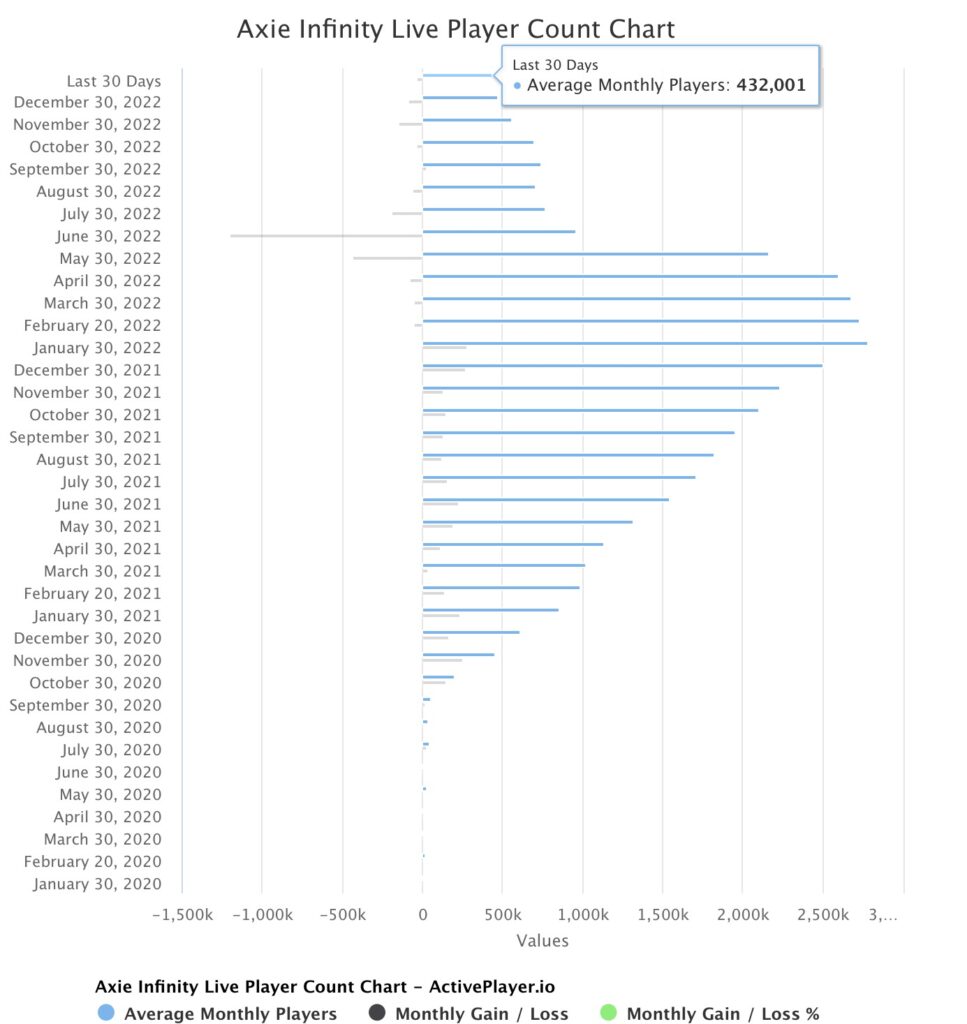 |Translation: coindesk JAPAN
|Editing: Takayuki Masuda
|Image: TradingView/CoinDesk
|Original: Crypto Gaming Token AXS Surges 40% Ahead of $64 Million Token Unlock
Axie Infinity rises 40% before unlocking | coindesk JAPAN | Coindesk Japan Our Bitcoin News.