Bitcoin Pizza Day Commemorative Special Campaign
CoinPost Co., Ltd. (Headquarters: Arakawa-ku, Tokyo; CEO: Takahito Kagami), which operates the online media "CoinPost" that specializes in news related to crypto assets (virtual currencies) and blockchain, is hosting WebX and "Bitcoin・To commemorate Pizza Day, we will hold a special campaign to win 100,000 yen in BTC from May 22nd.
▼ Campaign overview
During the campaign period, one person who followed our official Twitter account and retweeted and liked the "Bitcoin Pizza Day 2022 Commemorative Campaign" post will win 100,000 Bitcoins. Equivalent to 10,000 yen worth of Bitcoin will be given to 10 people!
Present contents
1st prize: Bitcoin 100,000 yen (1 person)
2nd prize: Bitcoin 10,000 yen (10 people)
Application period
May 22nd (Monday) to May 28th (Sunday) until 23:59
After the lottery, the winners will be notified by Twitter direct message.
Application method
3 easy steps!
Follow our Twitter account (@coin_post)
Like the campaign post!do
Retweet campaign posts
Target tweet:CoinPostTwitter
▼ Win even more with the double-up campaign!
By purchasing WebX tickets until June 22nd (Thursday), you will receive 100,000 yen worth of bitcoin for every 100 purchasers!
Those who have already purchased are also eligible.
In addition, WebX ticket purchase coupons (20% OFF) are being distributed
CoinPostJapan_WebX23
Ticket purchase URL
Ticket purchase page
▼What is WebX?
WebX is Asia's largest Web3 conference, gathering promising Web2/Web3 projects, companies, entrepreneurs, investors, developers, etc. from all over the world.
Visitors can enjoy performances (simultaneous interpretation in Japanese) with top projects and founders in the Web3 field, networking opportunities, technical workshops by major projects, pitch events related to Web3 business, exhibitions of various companies and projects, etc. You can participate in
Date: July 25th (Tue) and 26th (Wed), 2023
Venue: Tokyo International Forum
Organizer/Planning: General Incorporated Association WebX Executive Committee/CoinPost Co., Ltd.
Number of visitors (estimated): 15,000 or more over 2 days
Participating companies (expected): 2,000 or more
Number of exhibitors (expected): 150 or more
Media partners: 100+
Official website: https://webx-asia.com/ja/
Details: Asia's largest Web3 conference "WebX" held at Tokyo International Forum

Asia's Largest Web3 Conference "WebX" Held at Tokyo International Forum
CoinPost Co., Ltd. press release (December 26, 2022, 18:07) Asia's largest Web3 conference, held at Tokyo International Forum
What is Bitcoin Pizza Day?
Bitcoin Pizza Day is May 22nd. It dates from the day Bitcoin (BTC) was first traded and pizza was purchased.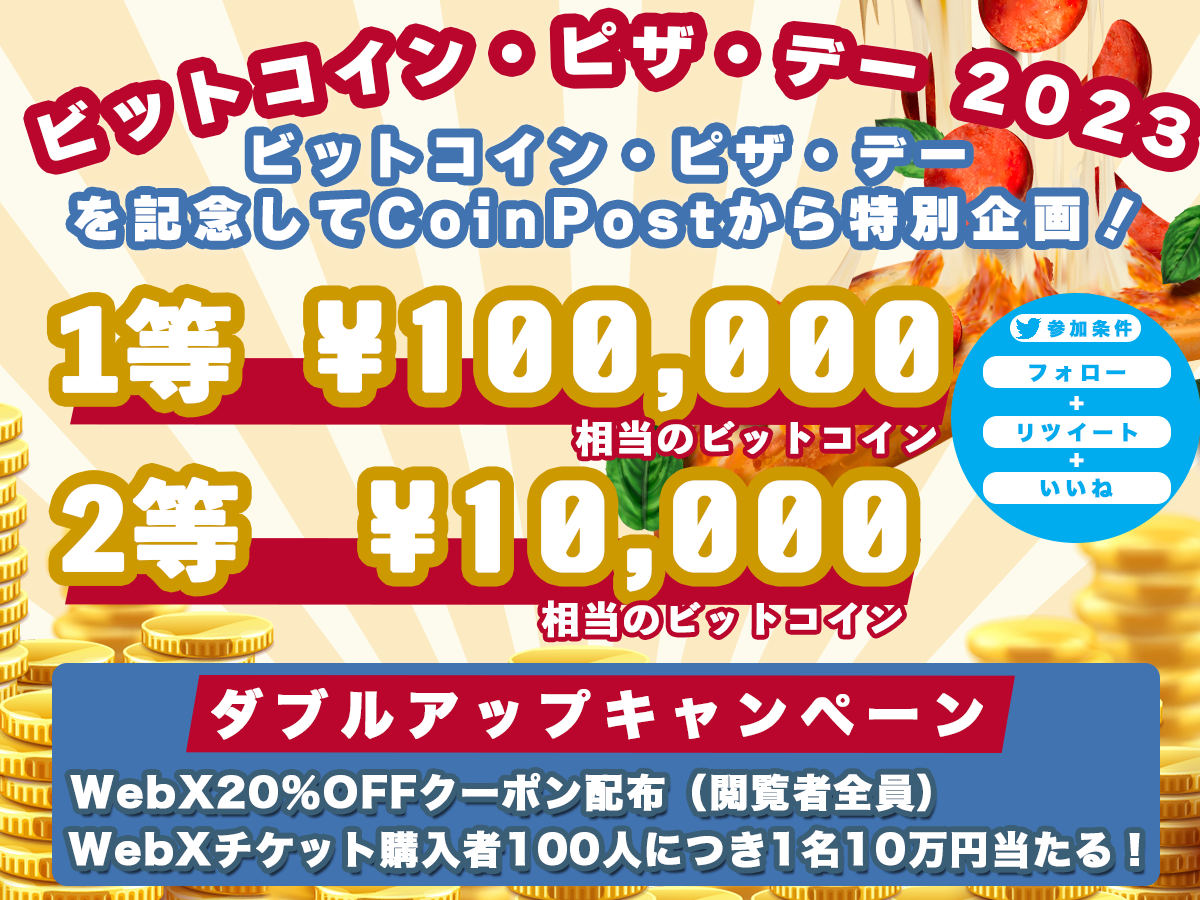 It is a day to commemorate the exchange of 10,000 BTC for 2 pizzas on May 22, 2010. 10,000 BTC, which was considered the same value as two pizzas, is now worth about 37.5 billion yen.
Win 100,000 yen in BTC: Bitcoin Pizza Day Commemorative Special Campaign Our Bitcoin News.