Bitcoin (BTC) and the Wall Street stock index S&P 500 are on the verge of a golden cross, a bullish technical signal that often sends traders into jubilation.
A golden cross is when price's 50-day Simple Moving Average (SMA) breaks above the 200-day SMA and forms a cross on the chart. Moving averages are not leading indicators, so this signal only suggests that the market's short-term rally has outpaced its long-term rally. However, chart analysts and traders see this signal as a harbinger of long-term price gains.
In a recent newsletter, an analyst at US investment firm Valkyrie noted an impending cross on the daily charts of Bitcoin and the S&P 500, stating that "the likelihood of a bullish golden cross has increased in the near future. The winds of change are starting to blow," he said.
According to charting platform TradingView, Bitcoin is likely to see its first golden cross since September 2021 within two weeks. Meanwhile, the S&P 500 looks set to hit a golden cross soon.
The simultaneous appearance of the Bitcoin and S&P 500 golden crosses may incentivize new entrants into the market for trend-following crypto traders. Bitcoin has evolved as a macro asset since early 2020 and tends to stay in line with the S&P 500.
However, it should be noted that while Bitcoin's big rally often starts with a golden cross, not all golden crosses lead to big rally.
Bitcoin has had eight golden crosses so far, the ones seen in February 2012, October 2015, and May 2020 that saw the price rise from 100% to 350% over at least a year. TradingView's data shows that it was a premonition of a bull market.
On the other hand, the golden crosses of July 2014, July 2015 and February 2020 turned into bulltraps that plunged sharply towards the death cross in the weeks and months that followed. A death cross is the opposite of a golden cross, signifying a bearish turn in the long-term trend.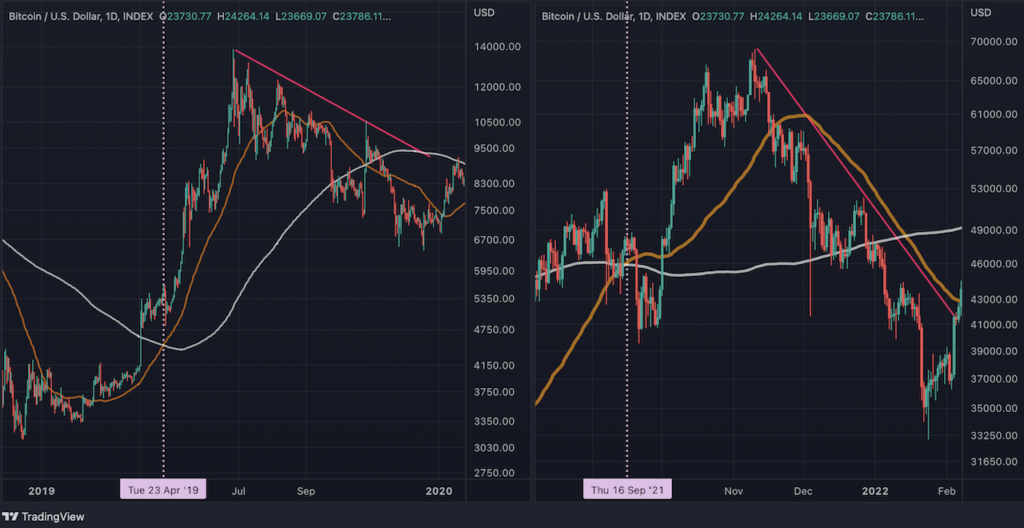 The two remaining Golden Crosses, formed in April and September 2019, surged in price over the next two months but lacked decisive blows and later fell into death crosses.
Historical data for the S&P 500 paint a similar picture. The index has experienced 52 golden crosses since 1930. At that point, there is a 71% chance that the stock will go up next year, according to a MarketWatch report that cited Dow Jones data.
So the Golden Cross is an unreliable stand-alone bullish indicator and should be read in conjunction with other factors, especially Fed policy that is becoming less hawkish by the month. It seems
As expected, the Fed delivered a modest 0.25% rate hike on February 2, raising the base rate to the 4.5% to 4.75% range. At a post-FOMC press conference, Fed Chairman Jerome Powell acknowledged that "inflation has eased somewhat," but downplayed the risk of a recession from monetary tightening, making it a risky asset. brought a bright spot.
ING Group analysts say the Fed is likely to raise rates by another 0.25% in March before pausing the cycle of rate hikes that rocked financial markets in 2022.
|Translation: coindesk JAPAN
|Editing: Toshihiko Inoue
|Image: CoinDesk/TradingView
|Original: Bitcoin, S&P 500 Close In on Bullish 'Golden Cross' Signal
Bitcoin and S&P500, Golden Cross is imminent ──However, it does not rise every time | coindesk JAPAN Our Bitcoin News.